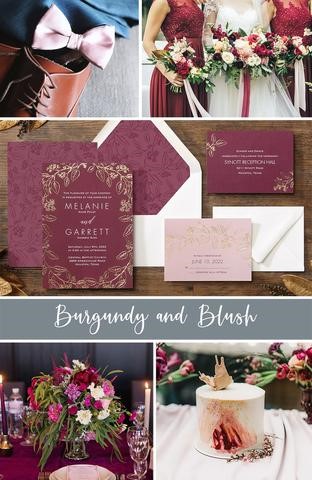 We love the color combination of blush and burgundy! This mix of beautiful colors would be absolutely perfect for a wedding any time of the year. By adding simple touches throughout your the space, this look is easily attainable.
Start by inviting your guests to your special day with our Flower-Patterned Romance invitation. The invitation and matching reception card are both burgundy with gold foil accents. The response card comes in blush with the same design; this will help you to introduce both colors to your guests.
Envelope Liners are an elegant way to dress up your envelopes. They can be customized to your invitation. This Burgundy liner gives your envelopes that extra special touch to enhance your invitation suite. The beautiful leaf swirl design coordinates with this ensemble.
An overlooked important detail for your sit-down reception lunch or dinner is the menu card. With this burgundy and blush invitation ensemble you can tie your colors in at the table with a burgundy card with gold foil imprint.
What you write on your menu card is mostly dependent upon your food and wine choices. At the top of your card be sure to write either "menu" or another signifier so that guests know this stationery contains the night's choices. It can be a nice touch to write your name and your groom's name underneath "menu" along with your wedding date. This will be a wonderful memento for your guests to keep.
Organize the card by course: Salads or soups go first, followed by your various entrees and desserts. If you happen to have more than one entree, feel free to list the courses by number. Be sure to capitalize the beginning of each line, and do not include any punctuation except for commas. To bring a little personality to the stationery, rename your food options in your own clever way. As long as your guests can understand what the basic ingredients of the meal are, be creative. If you happen to be serving wine with each course, be sure to mark the wine pairings under the dish with which it is meant to be served. Write out under each dish "served with" followed by the type, vineyard and year of the wine.
Have your bridesmaids dress in burgundy or blush dresses and have the groomsmen wear coordinating bow ties! For flowers and centerpieces use the same wedding colors and incorporate blush and burgundy flowers with greenery and ribbon. These are all subtle ways that will tie everything together.
Finally add this fun color palette to your cake or dessert table! Whether it's a marbled swoop of color or beautiful flowers, adding these to your wedding cake will bring the color them full circle. It makes the dessert table look like edible art!
All the best,
Diane
promiseswest.com