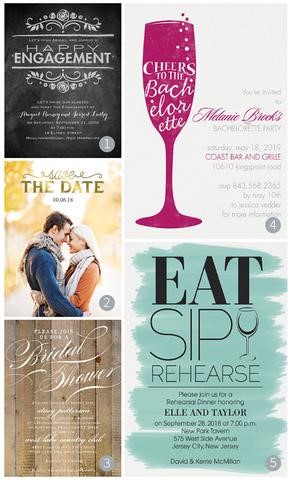 When you think of wedding stationery, you probably think of the wedding suite, which includes the invitation, reception card and response card.

However, there are so many things that happen before you send your wedding invitations that you need to let people know about and invite them to. Lucky for you, there's adorable, fashionable wedding stationery designed for each and every one of those pre-wedding events!
Engagement
Announcing that you got the ring? Throwing a party to show off the bling? Show your style with an engagement announcement or party invitation in a great design, like this Chalkboard News invitation that shares the news in a vintage way.
Save the Date
As soon as you set the date, send save the date cards to everyone on the guest list. A design like this Perfect Portrait photo save the date will definitely get them to mark their calendars.
Bridal Shower
Bridal showers can be as formal or as casual as you want them to be, and there are shower invitation designs to match every style. Go with this Vintage Woodgrain Love invitation for a bride who loves the rustic look.
Bachelorette
A great bachelorette party invitation will get all the ladies excited to celebrate with the bride. Send this Bachelorette Cheers invitation, and everyone will be toasting in no time.
Rehearsal Dinner
The night before the big day is a big deal, too. Let everyone involved in the rehearsal know that there'll be fun afterward with a great invitation like this Eat Sip Rehearse design.
Thank-You Notes
You are now a married couple! Say Thank-You to your guests with a personalized note.
Got a pre-wedding event? Find the perfect stationery now! To view more products visit: www.promiseswest.com or to view them in person call for an appointment. We'd love to help you with your special occasions!
All the best,
Diane
promiseswest.com