Custom Wedding Invitations
Why is Promises West your Go-To for Wedding Invitations?
Promises West offers one of the largest selections of traditional and contemporary and custom wedding invitations, announcements, thank you cards and stationary available in a private, personal and comfortable shopping setting. We offer designs to fit any wedding theme and every wedding budget. From country charm to city sophistication, from understated simplicity to elaborately ornate, we'll help you find the perfect fit from our collection.
The unique experience of working with Promises West is the ability to make an appointment to visit our bridal office, where you can spend the time you need one-on-one with Diane Maeder, owner and wedding consultant with over 22 years experience. You'll be able to feel paper stock, see the quality of printing and embossing, select your wording carefully and have the confidence that you've made the right decision before you make your important order.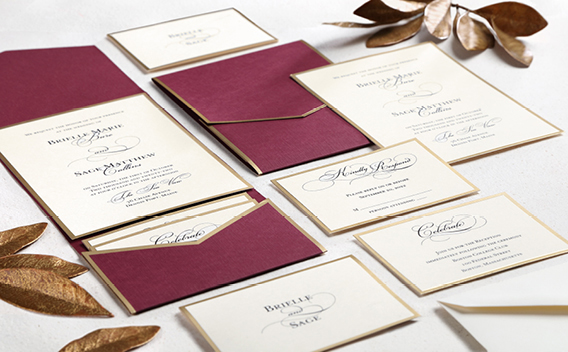 About Carlson Craft
The world's largest wedding and social stationary printer, Carlson Craft is also one of the first of its kind, having started over 65 years ago!
Here at Promises West, we have been working with Carlson Craft since our business first started in 1998. It seems like forever ago, but each year they never cease to amaze with their unique designs, exquisite papers, and expert printing! They have the same values we cherish in our business, which is a commitment to excellent personal service. This is why we chose them as one of our vendors, and why we're confident you will be amazed when you order Carlson Craft wedding invitations or wedding accessories.