Wedding invitations set the tone for one of the most important days of your lives! Did you know they're one of the most essential parts of planning a wedding? Spending time and effort on getting your invitation right could mean the difference between your guests keeping your invitation in their memory book or throwing it away in the trash. In order to see exactly what your invitation suite will look like it is important to feel and see all the different paper stocks that are available to you. When you order on-line you can only see a digital picture of what it will look like but not the weight, look and feel of the paper stock. You could order a sample but that takes time to receive and if you don't like it you're back to square one. Finding a Wedding Invitation Specialist who has all the samples at their store or office not only saves you time but assurance as to what you will be receiving. In the Los Angeles area, Promises West is one such business. There are four important aspects of what your invitation provides to your guests.
First ~ Setting the Tone
Your wedding invitations should set the tone of your entire event. A Wedding Invitation Specialist can guide you. You wouldn't want to send a rustic themed invitation if you're having a ballroom reception! A ballroom wedding reception deserves an invitation that's letter pressed or foiled. A simple, elegant wedding should have a simple, delicate invitation to reflect this theme. All wedding stationery – invitations, menus, signs, thank you notes, etc. – should have the same fonts, patterns, and colors reflected throughout for consistency.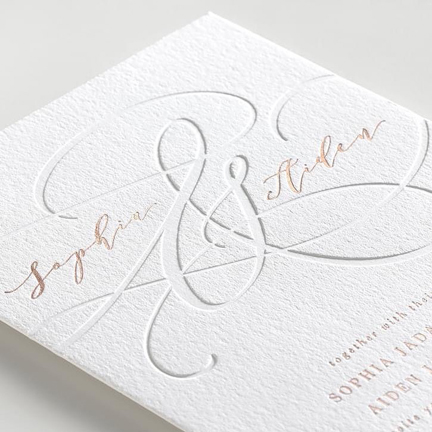 Besides telling your guests the basic information about what to expect on the big day, your personalized invitations will create both excitement and anticipation allowing your family and friends to actually envision your ceremony and reception by simply opening up an envelope! When you put thought, detail and attention into your wedding invitations, you undoubtedly create that feeling ~ a fun-filled evening will have guests looking forward with excitement whereas a destination wedding will have people smiling as they dream about beach cocktails and parties.
Second ~ The Theme of Your Wedding
This is where a bride and groom can express their own sense of style by selecting a design which fits their personality as well as the overall theme of the wedding. An example of this would be if the wedding is going to be an outdoor wedding an invitation with trees or mountains on it can help guests get an idea of the venue as well as what to expect. Another example would be if a bride and groom are going to have a very formal wedding a black and white invitation with maybe a laser cut wrap might be the perfect choice.
Third ~ The Dress Code
No matter what type of wedding you are planning to have, it is important for your guests to know what type of apparel they should wear. A Wedding Invitation Specialist can suggest the right wording. You can use phrases such as "Black Tie Affair" or "Casual Attire Preferred" so they know what to wear. If no dress code is mentioned on the invitation, it is assumed the dress should be semi-formal.
Fourth ~ The Details
Last but definitely not least is to include who will be getting married, when, and where the wedding will be taking place.
Include all the essential and relevant information that your guests need for the big day on an accommodation card, reception card, RSVP set and details card. Carry the details and elements from your formal invitation over to your insert cards — like a monogram, floral design, color scheme and fonts — and through your wedding website. Dazzle your guests by making your invitation suite amazing and extraordinary. With the help of a Wedding Invitation Specialist, you'll win them over with your attention to detail!
All the best,
Diane
promiseswest.com