When it comes to planning your dream wedding, every detail matters, including the invitations. Choosing the Perfect Wedding Invitation sets the tone for your big day, offering a glimpse into the style and elegance that guests can expect. To ensure your invitations make a lasting impression, it's crucial to choose the right paper and printing process. Let's explore some tips on how to make the best choices for your wedding invitations.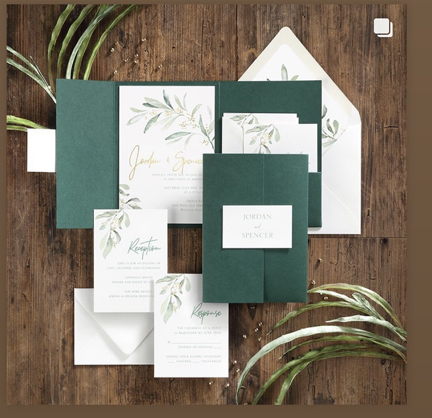 1. Understand Your Options:
Before diving into paper and printing processes, familiarize yourself with the various choices available. When it comes to paper, options range from textured to smooth, matte to glossy, and thick to thin. Printing techniques encompass digital, thermography (raised printing), letterpress and foil stamped or raised. You can also do a combination of a couple of these.
Gemma C. from Playa del Rey, CA ~ 5 Star Google Review

We ordered our wedding invitations and save the dates with Diane and the experience was phenomenal! We really wanted to be able to look at samples in person and Diane had tons to go through and we were also able to really customize everything so we could get just what we were looking for. Everything turned out perfect and the process was smooth and fast! Will definitely be back for any future needs!
2. Reflect Your Style:
Your wedding invitations should reflect your unique style as a couple. If you're aiming for a classic and timeless look, consider opting for a high-quality, heavyweight paper with an elegant texture. On the other hand, if you're planning a modern and sleek affair, a smooth finish paper might be more appropriate.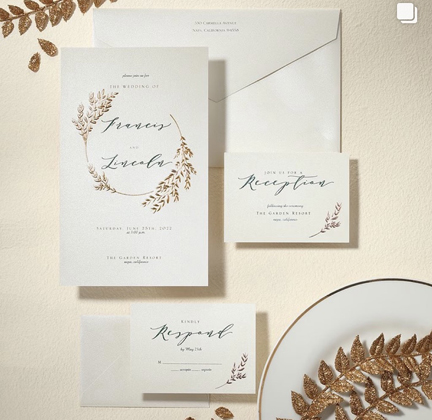 3. Consider Your Theme and Colors:
The paper and printing process you choose should align with your wedding theme and color palette. For a rustic outdoor wedding, textured paper with earthy tones could complement the theme beautifully. If your wedding has a vibrant and colorful theme, you might opt for a paper that supports vivid printing. A great site to get wedding color ideas is Colorsforwedding.com.
4. Feel the Texture:
The texture of the paper can greatly influence the overall feel of your invitation. Run your fingers over different paper samples to assess their texture. Consider how the texture aligns with your desired wedding atmosphere and the sensory experience you want to create for your guests.
5. Think About Printing Techniques:
Different printing techniques can add a unique touch to your invitations. Letterpress, for instance, creates a timeless and sophisticated look with its indented design elements. Digital printing allows for intricate details and a wide range of colors. Foil stamping can add metallic accents that catch the light and exude luxury.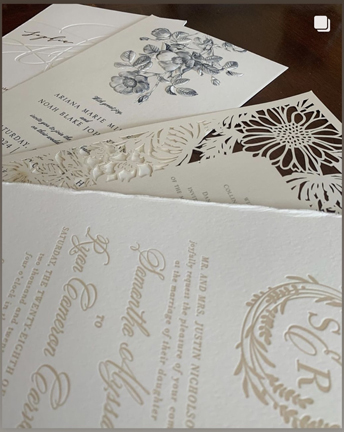 6. Budget Considerations:
While it's tempting to go all out, remember that your wedding invitation budget is just one part of your overall wedding expenses. Be realistic about what you can afford, and explore options that offer the best balance between quality and cost.
7. Test Samples:
Before committing to a specific paper and printing process, view them in person. Seeing and feeling the actual products can help you make an informed decision. Test how different papers hold ink and how printing techniques look on them.
8. Durability and Postal Friendliness:
Consider the durability of the chosen paper and how well it will withstand the postal system. Delicate paper might not be suitable if your me.
Some couples like consistency in their paper and printing choices across all wedding stationery, including save-the-dates, invitations, RSVP cards, and thank-you notes. However; many couples might want a photo Save the Date of their engagement or a special photo and for the invitation ensemble they may want a more elegant and formal look. This is your day ~ make it what you want.
Choosing the Perfect Wedding Invitation and printing process for your wedding invitations is an essential step in crafting a memorable and elegant invitation suite. By understanding your options, reflecting your style, and considering your theme and budget, you'll be well-equipped to make choices that align perfectly with your vision for the big day. Your invitations will not only impress your guests but also set the stage for a truly remarkable wedding experience.
Promises West has been a wedding stationer for 25 years! Here you will be able to have a one-on-one consultation, see and feel an abundance of samples, printing processes, paper, fonts, color ink choices and assistance with wording and guest addressing. Please visit my website Promises West and make an appointment – I'm located in Playa del Rey, CA. We make the whole process simple and fun!
All the best,
Diane
promiseswest.com